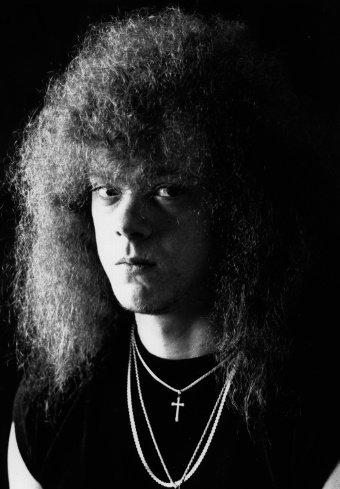 David Alsing
BASS GUITAR


Born: March 11th
Uses: Charvel basses and Peavey amps and speakers

Dave has been playing the bass guitar for over 20 years. A founding member of Seventh Omen, he and Bob played together in bands before Seventh Omen. The day they answered Clay's musician want ad for a drummer and bass player, Seventh Omen was born.

A man of varied musical tastes, David draws influence from all the music he listens to. His favorite bass players are two of the best, Geddy Lee and Steve Harris. "Yeah, I love all kinds of music, but for intense bass playing, metal is the most challenging and interesting to play. I love bass and rhythm and in this band I can utilize all my influences freely."

When it comes to playing in a metal band Dave is no stranger. Dave began playing bass in 1978 and has continued to grow with the changes in the music. Unlike some bassists, David started right out playing bass instead of guitar. "I like bottom end," he says with a grin. Once he found a home in Seventh Omen, Dave's own style really blossomed. He sees his job as tying the riffs of the guitarists to the beat of the drummer, but don't let this mislead you. Dave doesn't just follow one of the other, but instead plays his own riffs that combine aspects of both drums and guitar, providing a complete sound that has become one of the band's trademarks. This is not to say that he is against a good double bass punch once in a while, but will play whatever he can to make the entire song better, not just his bass line.

Dave likes loud stereos with lots of bottom end! He also likes trucks, riding his motorcycle, and the taste of a good beer.